I'm still around! I'm sorry I just disappeared completely... university and then college means I've wandered away from LiveJournal. But I'm here in some capacity. You can also find me here on Tumblr where I post some graphics as well.

I've discovered "Outlander" this year and I love the book and the TV shows. I re-discovered the song "Blood & Bones" by Elenowen and realized I had a song called "Ho Ro Mo Nighean Donn Bhoidheach" by The Rankin Family, and the rest of the mix just created itself.

I hope you enjoy!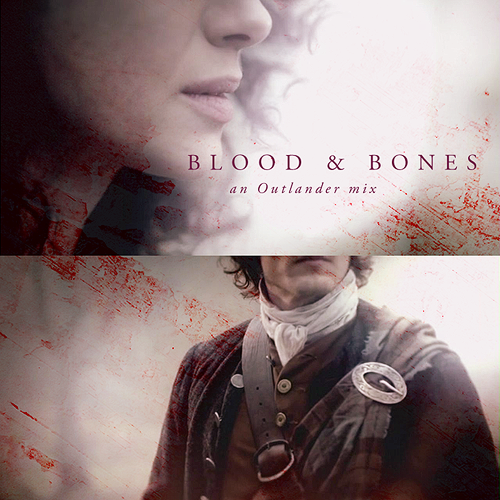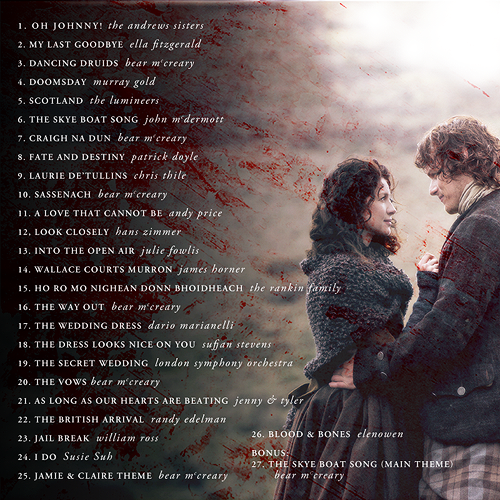 01. Oh Johnny! — The Andrews Sisters
You make my sad heart jump with joy
And when you're near I just can't sit still a minute
I'm so, Oh, Johnny! Oh, Johnny!
Please tell me dear
What makes me love you so?
02. My Last Goodbye — Ella Fitzgerald
Your eyes met with mine
Your lips so divine
It was my last goodbye to you
Poor darling, though you are gone
My dreams linger on
Of days when you said, "I love you"
03. Dancing Druids — Bear McCreary (from "Outlander")
Instrumental
04. Doomsday — Murray Gold (from "Doctor Who")
Instrumental
05. Scotland — The Lumineers (from "Reign")
You could never feel my story
It's all you know
You could never feel my story
It's all you know
06. The Skye Boat Song — John McDermott
Speed, bonnie boat, like a bird on a wing
Onward the sailor's cry
Carry the lad that's born to be king
Over the sea to Skye
07. Craigh Na Dun — Bear McCreary (from "Outlander")
Instrumental
08. Fate and Destiny — Patrick Doyle (from "Brave")
Instrumental
09. Laurie De'Tullins — Chris Thile
Instrumental
10. Sassenach — Bear McCreary (from "Outlander")
Instrumental
11. A Love That Cannot Be — Andy Price (from "Robin Hood")
Instrumental
12. Look Closely — Hans Zimmer (from "Winter's Tale")
Intrumental
13. Into the Open Air — Julie Fowlis (from "Brave")
I try to speak to you everyday
But each word we spoke, the wind blew away
Could these walls come crumbling down?
I want to feel my feet on the ground
And leave behind this prison we share
Step into the open air
14. Wallace Courts Murron — James Horner (from "BraveHeart")
Instrumental
15. Ho Ro Mo Nighean Donn Bhoidheach (Ho Ro My Nut Brown Maiden) — The Rankin Family
Ho ro, mo nigh'n donn bhoidheach
Hi ri, mo nigh'n donn bhoidhech
Mo chaileag laghach, bhoidheach
Cha phos mi ach tu
16. The Way Out — Bear McCreary (from "Outlander")
Instrumental
17. The Wedding Dress — Dario Marianelli (from "Jane Eyre")
Instrumental
18. The Dress Looks Nice on You — Sufjan Stevens
I can see a lot of life in you
I can see a lot of bright in you
And I think the dress looks nice on you
I can see a lot of life in you
19. The Secret Wedding — London Symphony Orchestra (from "BraveHeart")
Instrumental
20. The Vows — Bear McCreary (from "Outlander")
Instrumental
21. As Long as Our Hearts are Beating — Jenny & Tyler
My bride, my bride, I can hardly hold myself together
This day, this night, I see you as your are and I never want to leave...
After the sunset disappears
When there's no one around and there's nowhere but here
O my love, let's keep this up as long as we're breathing
Forgetting the world outside of this room
While you're holding me close, while I'm holding on to you
O my love, let's keep this up as long as our hearts are beating
22. The British Arrival — Randy Edelman (from "The Last of the Mohicans")
Instrumental
23. Jail Break — William Ross (from "Tuck Everlasting")
Instrumental
24. I Do — Susie Suh
I just want to love you when the going's tough
I just want to hold you when you're not enough
I just want to give you everything I've got
I do, I do...
I don't want to lose control
I just want to touch your soul
I do, I do
25. Jamie & Claire Theme — Bear McCreary (from "Outlander")
Instrumental
26. Blood & Bones — Elenowen
Have I ever told you
That you're my blood and my bones
Thought I'd never find you
You're the reason I'm home, don't want to go
If I ever leave
I'd have no blood and no bones
No reason to call this home
27. BONUS: Skye Boat Song (Main Theme) — Bear McCreary (from "Outlander")
Sing me a song of a lass that is gone,
Say, could that lass be I?
Merry of soul she sailed on a day
Over the sea to Skye