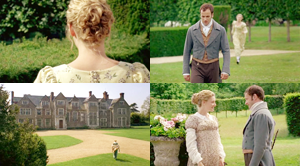 [Emma] lost no time in hurrying into the shrubbery. — There, with spirits freshened, and thoughts a little relieved, she had taken a few turns, when she saw Mr. Knightley passing through the garden door, and coming towards her... She had been thinking of him the moment before, as unquestionably sixteen miles distant. — There was time only for the quickest arrangement of mind. She must be collected and calm.
— Jane Austen, Emma, Volume III, Chapter XIII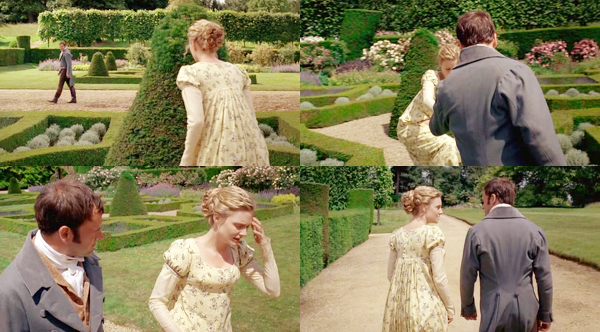 [Emma tries to hide from Mr. Knightley, unsuccessfully]

Knightley: There you are!

Emma: Oh, you are angry with me.

Knightley: With you? No. Why-why would I be?

Emma: I thought you had a look about you to scold me as you used to.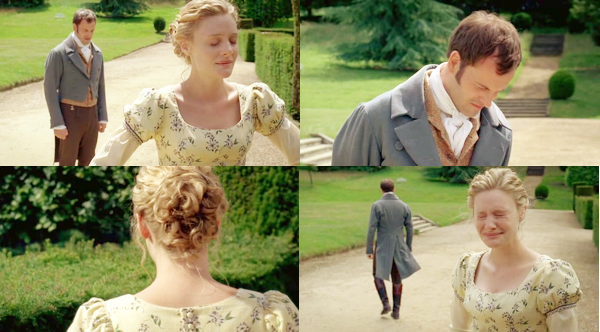 Knightley: [Referring to Frank Churchill's and Jane Fairfax's engagement] I have to confess, I... I was not quite sure how far you were entangled...

Emma: I have been examining the workings of my own heart and I can truly say this: he has taken advantage of me, but he has not injured me.
The delightful assurance of her total indifference towards Frank Churchill, of her having a heart completely disengaged from him, had given birth to the hope, that, in time, he might gain her affection himself...
Knightley: You will not ask me my secret? Yes, you are wise, but I cannot be. So, I must tell you —

Emma: No, please don't tell me!
Emma could not bear to give him pain. He was wishing to confide in her — perhaps to consult her; — cost her what it would, she would listen.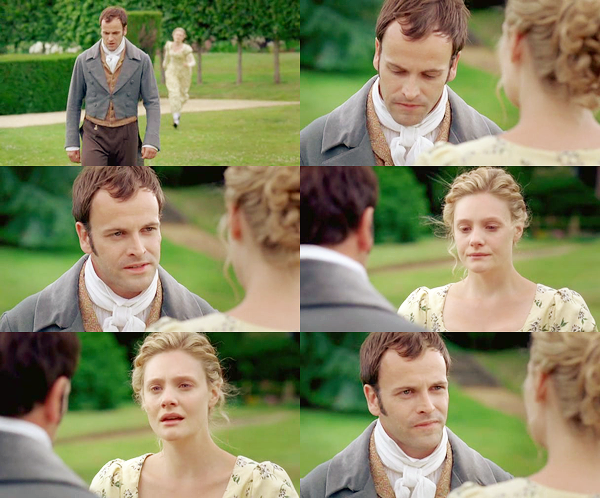 She had begun by refusing to hear him. — The change had perhaps been somewhat sudden;—her proposal of taking another turn, her renewing the conversation which she had just put an end to, might be a little extraordinary! — She felt its inconsistency; but Mr. Knightley was so obliging as to put up with it, and seek no farther explanation.
Emma: Wait! Wait! Please stop. I am sorry. We are old friends. I will hear anything you want, about anyone and I will tell you exactly what I think, as your friend.

Knightley: I don't — Friends indeed. I do want you to be honest, so tell me: have I no chance of succeeding?
He stopped in his earnestness to look the question, and the expression of his eyes overpowered her... Emma was almost ready to sink under the agitation of this moment. The dread of being awakened from the happiest dream, was perhaps the most prominent feeling.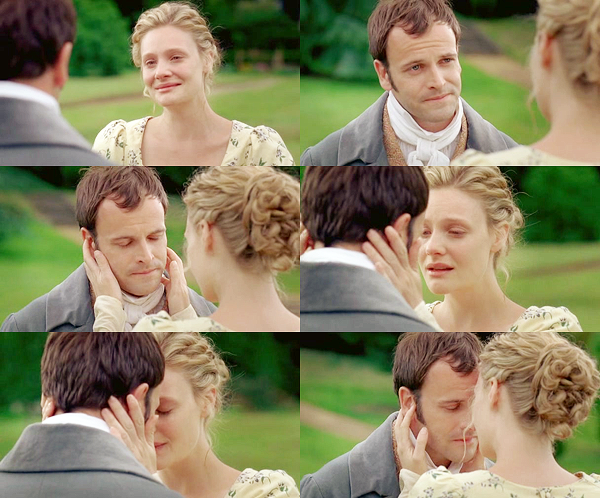 Knightley: My dearest Emma — for that is what you always have been and you always will be. My most beloved Emma. I cannot make speeches. If I loved you less I might be able to talk about it more. But you know what I am. I have lectured you and scolded you and you have borne it as no other woman would have.

Emma: Can this be true?

Knightley: You'll get nothing but the truth from me. So tell me what you think.
While he spoke, Emma's mind was most busy, and, with all the wonderful velocity of thought, had been able — and yet without losing a word — to catch and comprehend the exact truth of the whole; that she was every thing herself... these convictions, with all their glow of attendant... She spoke then, on being so entreated. — What did she say? — Just what she ought, of course. A lady always does. — She said enough to shew there need not be despair — and to invite him to say more himself.
Emma: I find... I do not know what to think.

He had only, in the momentary conquest of eagerness over judgment, aspired to be told that she did not forbid his attempt to attach her. — The superior hopes which gradually opened were so much the more enchanting. — The affection, which he had been asking to be allowed to create, if he could, was already his! Within half an hour, he had passed from a thoroughly distressed state of mind, to something so like perfect happiness, that it could bear no other name.

Her change was equal. — This one half-hour had given to each the same precious certainty of being beloved, had cleared from each the same degree of ignorance, jealousy, or distrust.
Knightley: Maybe I have Frank Churchill to thank for making me first aware of being in love with you. I have a feeling that it started the exact moment he returned home. I saw my life here in a different light... I knew after Box Hill.
[Emma gives him a quizzical, doubting look — Knightley continues]

Knightley: I went to London so I could learn to be indifferent. But I chose the wrong place to try and forget you.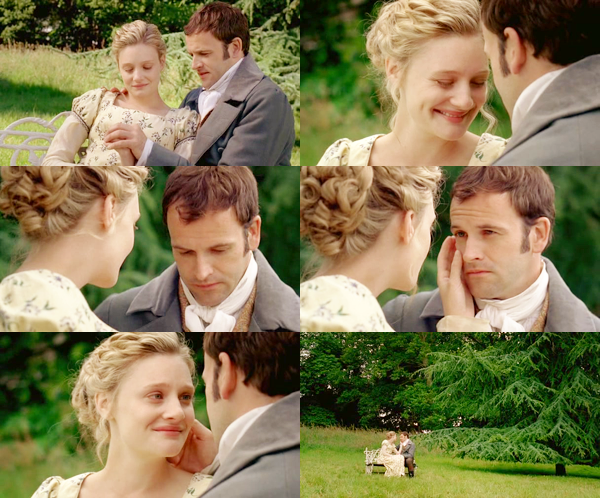 Emma: I was talking to Harriet.

Knightley: [Surprised and joking] Harriet. I do not mind what we talk of, we can talk of Harriet if we must.

Emma: [Laughs] After talking to Harriet on a... on a secret matter of her heart, I examined my own heart. And there you were — never, I fear, to be removed.

He had ridden home through the rain; and had walked up directly after dinner, to see... this sweetest and best of all creatures, faultless in spite of all her faults...
She was his own Emma, by hand and word.



—



She hardly knew yet what Mr. Knightley would ask; but a very short parley with her own heart produced the most solemn resolution of never quitting her father. — She even wept over the idea of it, as a sin of thought.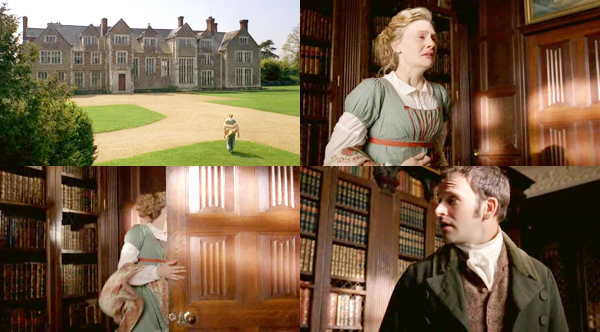 Emma: You know I love you, and I always will, but we can never marry! That's all!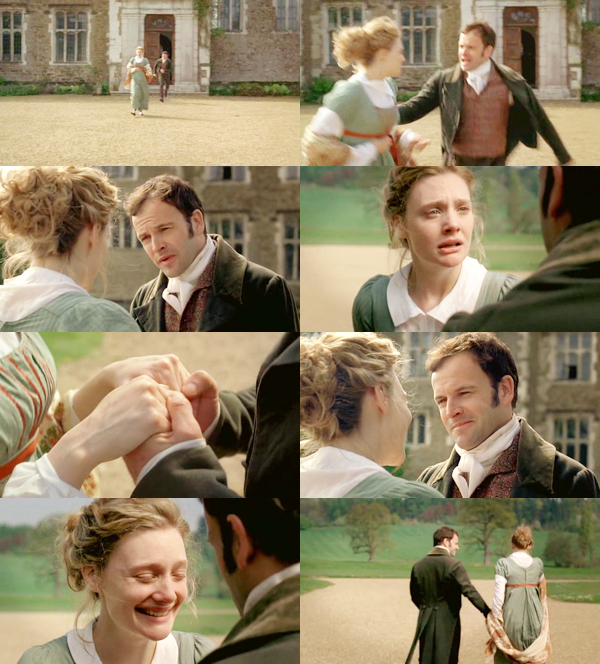 Knightley: I have been thinking. Now, my heart, is here. And what does it matter where I live if my heart is in the right place? I will move to Hartfield for as long as necessary.

Emma: You would do that? For me?

Knightley: I would do far more without a second thought.
She felt that, in quitting Donwell, he must be sacrificing a great deal of independence of hours and habits; that in living constantly with her father, and in no house of his own, there would be much, very much, to be borne with.


Poor man! — it was at first a considerable shock to [Mr. Woodhouse], and he tried earnestly to dissuade her from it...
[Later] he began to think that some time or other — in another year or two, perhaps — it might not be so very bad if the marriage did take place.



—



This proposal of [Mr. Knightley's], this plan of marrying and continuing at Hartfield — the more [Emma] contemplated it, the more pleasing it became.


She would have been too happy but for poor Harriet; but every blessing of her own seemed to involve and advance the sufferings of her friend... and it really was too much to hope even of Harriet, that she could be in love with more than three men in one year.



Knightley: I have some news for you. I don't think you will like it.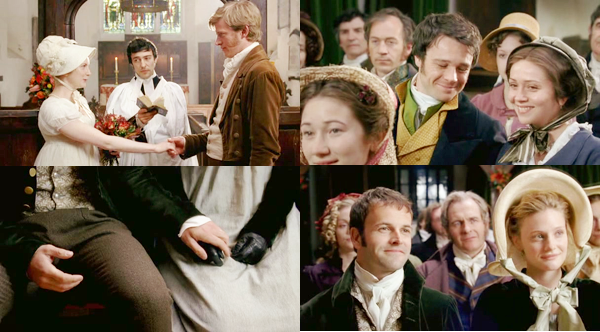 In general, it was a very well approved match [of Mr Knightley and Emma]. Some might think him, and others might think her, the most in luck.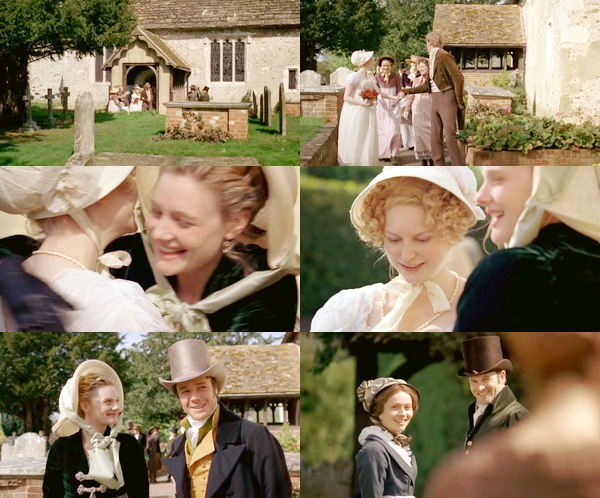 Frank Churchill: Tell me, Miss Woodhouse, you never did imagine this to be our story, did you?

Emma: No, I did not.
—
"I remember once calling you 'George,' in one of my amiable fits, about ten years ago. I did it because I thought it would offend you; but, as you made no objection, I never did it again."

"And cannot you call me 'George' now?"

"Impossible! — I never can call you any thing but 'Mr. Knightley.' I will not promise even to equal the elegant terseness of Mrs. Elton, by calling you Mr. K. — But I will promise," she added presently, laughing and blushing — "I will promise to call you once by your Christian name. I do not say when, but perhaps you may guess where; — in the building in which N. takes M. for better, for worse."
—
The result of this distress [of the poultry disappearances] was, that, with a much more voluntary, cheerful consent than [Mr. Woodhouse's] daughter had ever presumed to hope for at the moment, she was able to fix her wedding-day —and Mr. Elton was called on, within a month from the marriage of Mr. and Mrs. Robert Martin, to join the hands of Mr. Knightley and Miss Woodhouse.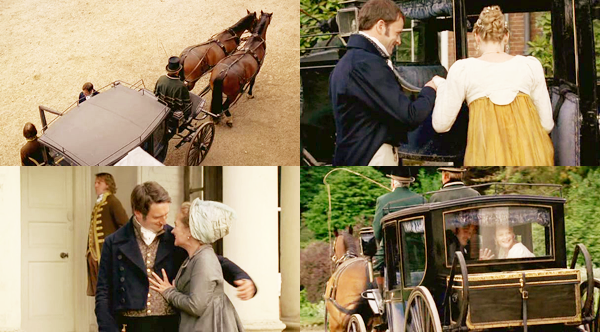 Mr. John Knightley: Marvelous. So they're off on a mystery honeymoon while I get to protect the chickens.

Mrs. Knightley: 'Tis a miracle that Father was persuaded to let them go at all ever. But there is a wolf about, and we need a man to protect the chickens.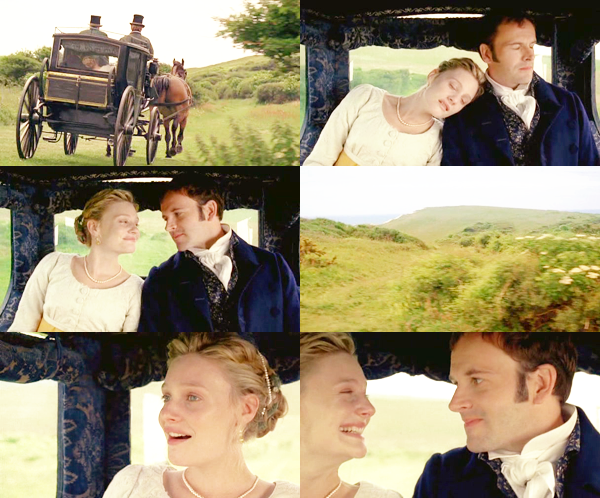 The wedding was very much like other weddings, where the parties have no taste for finery or parade... But, in spite of these deficiencies, the wishes, the hopes, the confidence, the predictions of the small band of true friends who witnessed the ceremony, were fully answered in the perfect happiness of the union.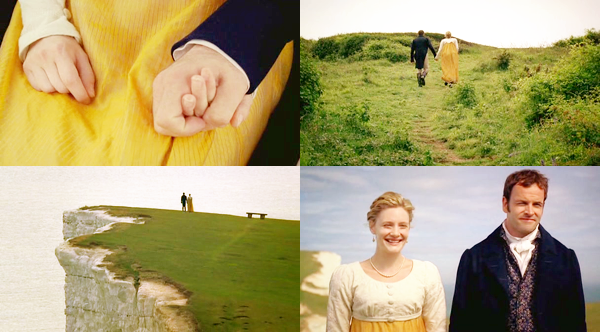 THE END.






Wow, that took much longer than I anticipated — and this was only about 20 minutes of the series. I think I've watched this part about four times now, at least, and reading the end of the novel makes it that much sweeter. Whatever reservations I may have had about Romola Garai and Jonny Lee Miller have vanished and I ship Emma and Knightley hard! I think it's how beautifully this series (and the ending specifically) shows the special friendship Emma and Knightley have that is the foundation of their romantic relationship — something unique to most of Austen's couples (save for Fanny and Edmund, perhaps? Hey, Jonny Lee Miller has something there.)

I hope you all enjoyed this picspam! And the series. What are your thoughts? Yay or nay?


Oh, and I couldn't help sneaking in some Jane and Frank picspamming love, too. They are just too adorable!






[Emma and Jane talk together]
"And the next news, I suppose, will be, that we are to lose you — just as I begin to know you."

"Oh! as to all that, of course nothing can be thought of yet. I am here till claimed by Colonel and Mrs. Campbell."

"Nothing can be actually settled yet, perhaps," replied Emma, smiling--"but, excuse me, it must be thought of."

The smile was returned as Jane answered,

"You are very right; it has been thought of. And I will own to you, (I am sure it will be safe), that so far as our living with Mr. Churchill at Enscombe, it is settled. There must be three months, at least, of deep mourning; but when they are over, I imagine there will be nothing more to wait for."

"Thank you, thank you. — This is just what I wanted to be assured of. — Oh! if you knew how much I love every thing that is decided and open! — Good-bye, good-bye."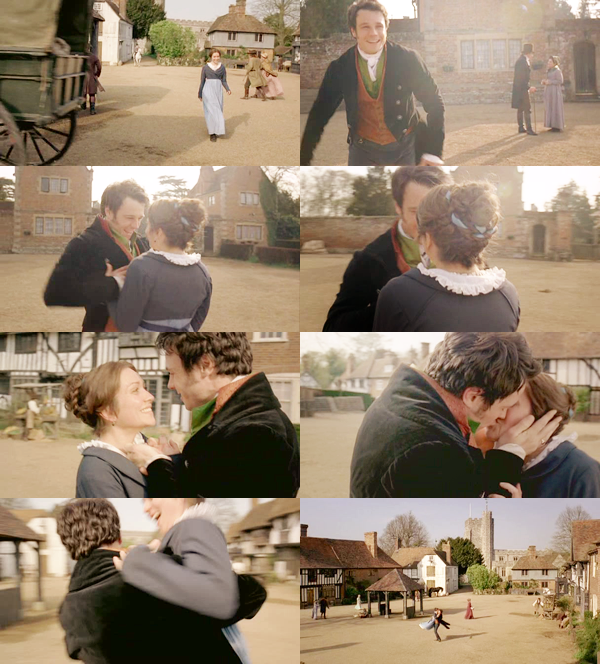 Frank: Where should we go, hmm? What should we do? For the first time in our lives we can do anything we want! [He kisses her]

Jane: [Beaming] Let us try to be sensible — give it some thought.

Frank: How about a dance?
Please:
Comment if you like!
Do not use these caps for any graphics. I spent a lot of time fixing them up!
Do not hotlink.
Do not alter or repost any of these as your own.
Note that credit/resources can be found here.
And enjoy!
Screencaps by
_becca84_ @
puchre (here).